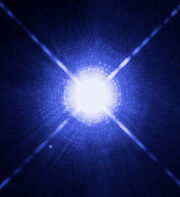 Sirius (Alpha Canis Majoris) is one of the brightest stars of the night sky. It is in the constellation Canis Major.
It has an apparent magnitude of -1.46, but it is not brighter in the sky than Jupiter (magnitude can reach -2.94).
<hiero>X1:N14-M44</hiero> Hieroglyph of
Sirius/Sopdet
Sirius, known in ancient Egypt as Sopdet (Greek: Σῶθις = Sothis), is recorded in the earliest astronomical records.
Sirius is a binary star. It has a small companion, Sirius B, a white dawrf.
It is 8,5 light-years away, so one of the closest stars from Solar System.
Observation
Edit
It is visible from everywhere, even in a city. Snapshots are also possible, but the star will look smaller than Jupiter.
Ad blocker interference detected!
Wikia is a free-to-use site that makes money from advertising. We have a modified experience for viewers using ad blockers

Wikia is not accessible if you've made further modifications. Remove the custom ad blocker rule(s) and the page will load as expected.